News
May 21-27 2017


Julie Blyfield, Touch, Shot cups, 2013, sterling silver

The National is heading to Auckland !
For one week only, The National is holding a special exhibition of objects and contemporary jewellery at Anna Miles Gallery in Auckland.


'Containment' features works from New Zealand and international artists Peter Bauhuis, Vito Bila, Julie Blyfield, Robin Bold, Crystal Chain Gang, Warwick Freeman, Karl Fritsch, Gavin Hipkins, Craig McIntosh, Lindy McSwan.

Opening Sunday 21 May, 3 – 5pm at Anna Miles Gallery, 10/30 Upper Queen St, Auckland.
The exhibition will be open each day from 11am – 5pm, ending Saturday 27 May at 5pm.

So thrilled to have been invited to take part in this exhibition. Special thanks to Caroline Billing of The National for this opportunity.

May 9-27 2017
Many thanks to Sarah Heyward who has curated Forces, an exhibition of artists working in steel showing at Studio 20/17 Project Space, 53 Ridge St North Sydney

Forces installation at Studio 20/17 Project Space


Photograph by Sarah Heyward



"This exhibition explores themes around fluidity and strength in our everyday lives. The push and pull of our environment, both in the natural world and political sphere, the forces, which make us feel both fragile and insignificant but also powerful and resilient. At a time where we face potential environmental catastrophes, nature – in which many artists find inspiration – reminds us how merciless the earth's forces can be. This exhibition hopes to act as a celebration of steel as a material and also the investigations we undertake to make the material speak." – Sarah Heyward

Participating Artists: Sarah Heyward, Jin ah Jo, Lindy McSwan, Melissa Cameron, Alicia Carriero, Susan Buchanan and Inari Kiuru. Forces installation at Studio 20/17 Project Space
Celebratory drinks and Artist Talks: (Sarah Heyward, Susan Buchanan, Lindy McSwan) Saturday 27 May, 2-4pm



April 18 to May 27 2017

As announced in Gallery Funaki April Newsletter

"April sees the opening of a major group exhibition at Funaki.
Curated by Natasha Sutila, HOLD: Exploring the Contemporary Vessel considers the diverse approaches to making, materiality and function in contemporary practice. We are excited to present a stellar lineup of Australian and international artists for this survey exhibition.
We look forward to seeing you at the opening on Tuesday April 18, from 5:30pm."




It is a great honour to be exhibiting with this amazing line up of artists, many of them my heroes in the world of contemporary jewellery, objects & vessels. I have been fortunate to learn directly from and be inspired by some of them

April 8 to 22 2017

I was delighted to be invited to participate in this exhibition at Avid Gallery in Wellington, New Zealand. Quoting Avid webpage "Heavenly Vessels is a collection of vessel objects worked in glass, metals and ceramics. Eight artists from NZ, Australia and Japan have explored a range of ideas in their work for this exhibition: the passing of time, feelings relating to connection with place and the beauty and materiality associated with the medium they are using."





More images of the beautiful vessels in the exhibition can be seen on

Avid Gallery's FaceBook page
March 2017



Beth Wheeler, founder of 1000 Degrees Glass Studio has written an article about our studio Workshops of the World: 1000 Degrees for Garland magazine. See the "10 Golden Rules for working together in the studio" ... at the end of the article. Thank you and well done Beth. I love my studio space and getting to spend time in the studio; especially the ability to spread out in the light filled communal space when the need arises and occasionally bring in my four legged friend for company.




September 2016 Some of my Honours graduate exhibition work was selected for SNAG Metalsmith annual Exhibition in Print publication.
The 2016 theme Shifting Sites is wholly appropriate to both the making and subject of much of my work.
A subscription to Metalsmith (digital and/or printed) is one of the benefits of membership to the Society of North American Goldsmiths (SNAG).


My thanks to Melissa Cameron for giving me the nudge to apply for this opportunity.

September 14 – November 30 2016

Shades of Metal at Chicago Avenue Fire Arts Centre Minneapolis, MN, USA

A small collection of vessels - heat coloured and enamelled - were selected for the CAFAC exhibition Shades of Metal.
Entries were required to use an element of fire arts using flame, heat etc in the making of artworks and application of colour to metal; a perfect opportunity for some of my work to take a trip to the USA.
Jhyle Rinker, CAFAC Gallery Coordinator, so kindly made and sent out a video tour to participating artists who could not attend the exhibition and Open HotHouse event. The CAFAC looks like the must visit studio/workshop from heaven with all the resources a metalsmith would ever need.


August 30 to September 9 2016


Wondernamel 2016

at

RMIT First Site Gallery




So pleased to have my work in Wondernamel again!


'Wondernamel began in 2007 and continues as a group exhibition of contemporary enamelling in Australia. The artists exhibiting in Wondernamel 2016, work in diverse ways making original work in the area of enamelling. Wondernamel is an invented word connecting the use of enamel by the artists using the notion of the curiosity cabinet or wonder room.'
Curated by Dr Kirsten Haydon
Exhibition Opening images by Sarah Lay Photography

July 30 to October 1 2016



Collective Material at Craft Victoria.
Currently the two vessels (pictured below) acquired by The Bluestone Collection from 5 x 7: early career Australian makers are in this exhibition. As part of the exhibition program Craft Collectors Public Forum will be held at Craft on August 20th at 1:30pm.
25th to 31st July 2016

A small collection of vessels have travelled to Japan for the 50th International Exhibition of Japan Enamelling Artists at the Metropolitan Art Museum, Tokyo. Two years ago we attended the exhibition opening in Tokyo and were very warmly welcomed by the Associationcommittee members and artists. Such a great opportunity again to have my work exhibited with so many accomplished enamel artists. I am sorry I was unable to attend this year.
June 4th to 17th July 2016


Great news that a collection of vessels from my Honours graduate work was pre-selected for the Stanthorpe Art Festival Exhibition and has arrived safely at the Stanthorpe Regional Art Gallery, Queensland
April 19th to May 14th 2016
postscript to 5 x 7: early career Australian makers
~ So thrilled two pieces in the exhibition were acquired by The Bluestone Collection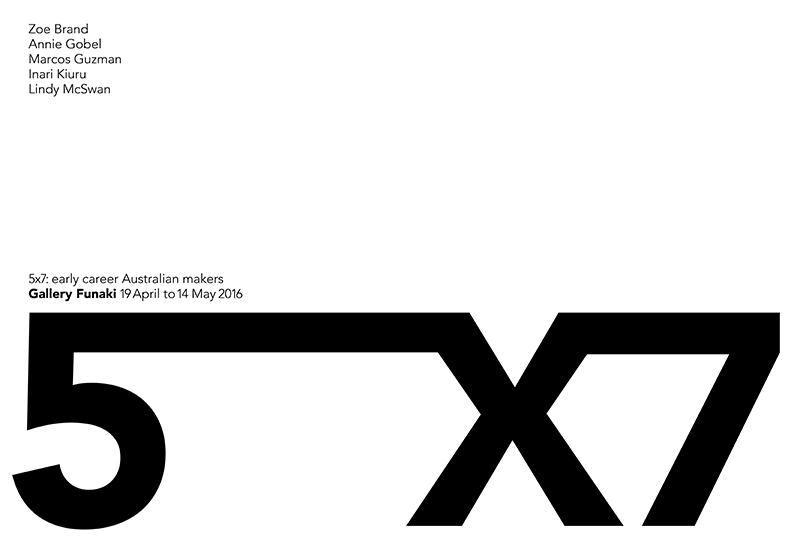 I am very pleased and excited that some recently completed vessels are in this exhibiton at Gallery Funaki, Melbourne.
April 15th to June 13th 2016
Another collection of my work has been selected into the 39th Alice Prize, Araluen Arts Centre, Alice Springs.
A review of the exhibition by Kieran Finnane is in the Alice Springs News.

February 2016

.... the installation now continues until 30th April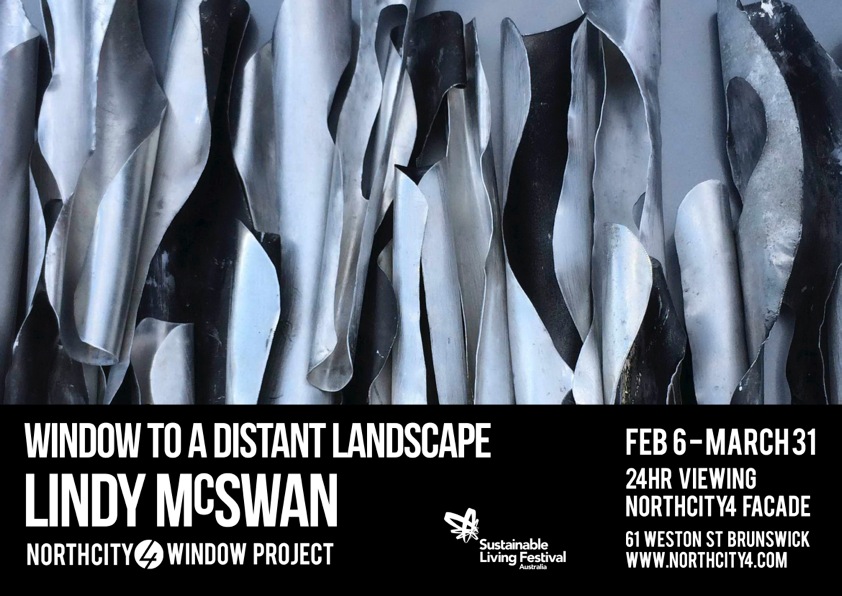 Excited to be installing my work on the window and gate of Northcity4 at the end of this week.
The installation is part of the 2016 Sustainable Living Festival program.
~ With special thanks to Ali, Anna and Katherine of NC4 for supporting me in this project. More details and some images of the development on NC4 Blog Post.

September 2015
August 2015
Interview in The Age - Domain leading up to Radiant Pavlion
Victorian Craft Award, Craft Victoria, 45 Downstairs, Melbourne
Marzee International Graduate Show 2015, Galerie Marzee, Nijmegen, The Netherlands

July 2015
Outback Open Art Prize, Broken Hill Regional Art Gallery, NSW
Profile 2015, Airspace 2 Projects, Marrickville, Sydney
Graduate Metal XIV, The Depot Gallery, Waterloo, Sydney
March 2015
Re:make, First Site Gallery, RMIT University, Melbourne
November 2014
Hey Handsome - Honours Graduate Exhibition~ with thanks to Melbourne Jeweller for a great review of our show
May 2014
Craft Victoria Interview - coinciding with Five Horizons exhibition
April 2014
Five Horizons, Lobby Gallery, Sofitel on Collins, Melbourne
December 2012
Fresh! Craft Victoria, Annual Graduate Show, Flinders Lane, Melbourne